BOOMERHUNTING!
This was one of the coolest things I have ever done. We were cleaning up the remaining targets after Boomershoot 2004, by walking up the hill with AR-15's and shooting them at close range.
I have video below, but let me tell you, the audio does not do it justice even if you listen over the best surround sound system you can find. Imagine standing in front of a speaker array at a rock concert during a drum solo and multiply by a thousand. The problem is that the camcorder microphone (or the 16-bit format recorded on the tape for that matter) doesn't have enough dynamic range to capture the sound. I would like to try coming up with a better approximation by using a kick drum mic and a 24-bit sound card some time. I suspect there are strong infrasonic frequencies that contribute to the thump in your chest as well.
There are more Boomerhunting Videos on the main video page.
My first Boomerhunt at Bomershoot 2004 (Joe generously lent me his rifle)
Full Resolution (11.7MB)
Low Resolution (4.6MB)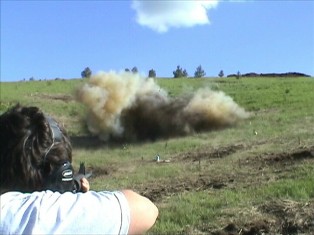 My Son's First Boomerhunt at Bomershoot 2005 (Scott generously lent us his rifle)
Full Resolution (7.17MB)
Low Resolution (2.61MB)